Accomplishments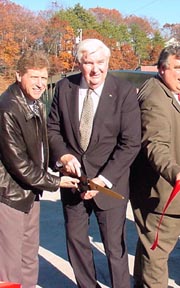 The Legacy of Governor Lincoln Almond (1995 through 2003)

Governor Lincoln Almond had one goal when he took office in January 1995 - to make Rhode Island a place where people wanted to work and raise their families. After eight years in office, Governor Almond has achieved his goal.

Rhode Island is a national leader in providing health care. All children now have access to health care through a program called RIte Care, which was significantly expanded during the Almond Administration. Pre-natal care has been a priority for the state's Department of Health, and as a result, the number of low-weight births have been vastly reduced. Rhode Island also has instituted an aggressive immunization program. Governor Almond believes that investing in health care is a wise investment that will pay off in the future.

When caring for children and providing assistance for working families, child care was as high a priority for Governor Almond as health care. During his terms in office, the number of state-subsidized child care slots was greatly increased. Standards for child care providers were raised. Health care through the state also was offered to child care providers. Governor Almond believed that the state investment in child care was an investment in our economy by assisting more women to enter and stay in the workforce.

During Governor Almond's first term in office, welfare reform efforts were instituted on both the federal and state levels. Under his leadership, Rhode Island has been very successful in its approach to transition people from welfare to work by providing a solid support structure through child care, health care, transportation and other forms of assistance. As a result of our efforts, many Rhode Islanders have gained independence.

Early childhood initiatives have been a cornerstone of the Almond Administration's goals to give children a healthy start in life and to prepare them to learn. During Almond's eight years in office, education aid to communities was increased overall by 64%, with a strong focus on providing assistance to our urban areas. Under Almond's watch, schools are more accountable for both student and teacher performance. The standards for achievement were raised. Teacher preparation was reviewed and improved; the number of charter schools were increased; recommendations were put into place to improve vocational education in the state.

The nation's economy and the state's banking crisis in the early 1990's resulted in a severe reduction of state aid to Rhode Island's public institutions of higher education. Governor Almond believed this was a mistake. In his first months in office, he toured all the state campuses and was appalled at the high level of disrepair and neglect in both the academic buildings and dormitories. Almond was determined to turn this around. Under his leadership, there has been a 30% increase in funding for higher education.

At CCRI -- the Community College of Rhode Island - there has been significant expansion and renovation at all the existing campuses, and work has begun at a new Newport campus. Governor Almond advocated strongly for passage of a 2000 bond referendum, which included funding for the Newport campus. With CCRI an affordable stepping stone for college for many lower income students, Almond was successful in having the tuition frozen there for most of his years in office.

The state offices that were once located at Rhode Island College have been removed, giving the college more room to expand. Governor Almond directed funds to improve the buildings and dormitories at Rhode Island College, and was pleased to be at the ribbon cutting for the new Nazarian Performing Arts Center in 2000.

Governor Almond was the first graduate of the University of Rhode Island to be elected to the Office of Governor. He takes great pride in the University, which gave him a solid education and the opportunity to pursue greater heights. During his terms in office, the state made a major investment in URI, starting with the physical infrastructure, which was badly neglected. The steam plant was upgraded and the dormitories were wired for Internet access. One by one, the dormitories have been renovated and academic buildings have been redone. The Ryan Center, a focal point of the Kingston campus, is located at One Lincoln Almond Way.

To keep our graduates in state, Governor Almond believed the state needed to offer solid job opportunities. During the Almond Administration, the state's economy became more diversified. More than 40,000 jobs were created during Governor Almond's terms in office, with the state unemployment rate remaining below the national average for most of his eight years as Governor. The Governor targeted Quonset Point as a major center for economic development. The Quonset Davisville Port and Commerce Park, overlooked by prior Governors, is now a thriving area, with more than 120 companies and 6,000 workers. During his terms in office, Governor Almond was a strong advocate to transform the existing port at Quonset into a privately-owned, compact container port.

Through tax incentives and regulatory reforms, the state has been able to encourage the growth of industries such as financial services, biotechnology, and the marine trades. Brownfields, many in the state's urban areas, are being transformed into places where people now work and live. The historic preservation tax credit signed into law by Governor Almond in 2001 is the reason why projects, such as the Masonic Temple in Providence, will finally be rehabilitated to provide much needed hotel space and commerce for the state.

To make the state more competitive, Governor Almond was successful in overseeing a five-year plan to reduce the state's income tax by 10% and to begin the phase out of the tax on capital gains. There were 45 other tax reductions enacted during Almond's time in office, including instituting one of the nation's highest research and development and investment tax credits.

The Rhode Island Capital Fund, created by Governor Almond, allows the state to pay for projects out of current revenues instead of seeking funds from bonds. Every part of the state has benefited from the Rhode Island Capital Fund, from World War II Memorial Park in Woonsocket to the new pavilion at Misquamicut Beach in Westerly. The Governor directed funds to many of the state's recreational areas, including the boat ramps in East Providence and Bristol, as well as the piers at Galilee and Newport. The years of renovating the State House was recognized by the National Trust for Historic Preservation in 2002.

As Governor Almond leaves office, unfinished projects of significance to the state include completing the CSO (combined sewer overflow) project to improve the quality of Narragansett Bay; re-aligning Route 195 which will open up acres of land for development along the Providence River; moving forward with the Warwick Train Station to provide intermodal transportation to the state's major airport; and upgrading Route 403 in South County.

Governor Almond knew that many people, himself included, lived in Rhode Island because of the state's high quality of life. Open space acquisition was high on his list, and during his terms, the state helped purchase more than 10,000 acres of open space. Over 36 miles of bike paths were built, with 40 miles more under construction. The state resurfaced roads in every community and operated under Governor Almond's maxim to fix it first.

Prior to being elected as Governor, Lincoln Almond served as the state's U.S. Attorney. During his more than 21 years in service, US Attorney Almond saw firsthand the harm of gambling. That is why he was such a strong opponent to the expansion of gambling during his eight years as Governor. He successfully fought every attempt to bring casino gambling into Rhode Island, and repeatedly urged the Rhode Island Lottery Commission not to approve additional VLTs (video lottery terminals) at Lincoln Park and Newport Grand Jai Lai.

Governor Almond believed that the nine-member Lottery Commission, with six members from the Rhode Island General Assembly, should not solely have the authority to approve the expansion of gambling. For eight years, Governor Almond brought this issue of "separation of powers" to the forefront of public discussion. Twice he offered a non-binding statewide referendum question asking if the public was in favor of separate and co-equal branches of government. Both times in 2000 and 2002, the Rhode Island voters overwhelmingly approved the question.

Governor Lincoln Almond was the first Rhode Island Governor to serve a four-year term, and the first Governor to be term limited under law. When asked by the media in the last days of the eight-year Almond Administration what he wanted to be remembered for, Governor Almond replied, "that I left the state better than when I became Governor eight years ago."